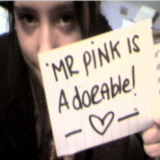 I've dropped Coms - horrah! Jolly good show.
Instead, I'm helping out with the year 7 classes; and my sister's (muhahaha!!) It might be better. I was thinking of retaking Maths? I won't be able to get into the normal classes because I got such a low grade; But I could go to the evening class Monday evenings (from 7 til 9pm.) My first thought was fuck that - it still is 'fuck that.' Pfft, 7 in the evening til 9 at night? Heh! But many colleges/universities/employers don't want to look at my grades and think 'shit this bitch got an F - what a thick cow; she's no use.' My year-head wants to know by tomorrow, so I'll discuss with pee and em tonight.
Um .. I'm ok ... so fucking glad I'm out of Coms. I bought some jewelery today: A gothic cross necklace for £6, black bangle for £4 and a pair of earrings for three quid. Lol, £13 all together ¬.¬ That's New Look for you .. http://www.newlook.co.uk
I didn't go and see the bloke today ... There was no point: He wasn't going to be in. Besides, those stupid neighbours have put me right off. I doubt I'll see him for now on. ... Well, that's the way it has to be ... like the Led Zeppelin song That's The Way - one of my fave acoustic-songs of theirs.
I'm getting spots again :( Colin says I need to eat more apples and pairs. Fuck you Colin you asshole! ... sorry Colin - *hugs* ... he's right. I can't help it though; I love chocolate. ... cake. Mmmm .. chocolate.... *drools*
Well that's all for now :)
xxxx